Chile: Pinochet's former intelligence chief Manuel Contreras dies
Comments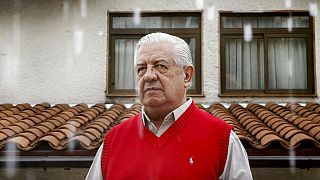 The former head of Chile's secret police during the country's military dictatorship has died, aged 86.
Manuel Contreras was unrepentant for human rights crimes, committed under Augusto Pinochet.
Pinochet, who was then the head of the army, toppled the democratically elected socialist president, Salvador Allende, in a violent coup on 11 September 1973.
An estimated three-thousand people were kidnapped and killed or disappeared and 28-thousand were tortured during the 17-year dictatorship.
As head of the DINA intelligence service at the time, Contreras ran torture centres where hundreds of people were killed.
Pinochet died in 2006, having never faced a full trial.
Contreras was handed 58 sentences, amassing more than 500 years of jail time.
He sered a large part of his sentence at the Penitenciario Cordillera in Santiago, which was eventually closed down amid public anger over his relative comfortable conditions alongside other former Pinochet agents.
Whilst behind bars, Contreras wrote a book titled 'The Historical Truth,' which presented his version of the bloody coup.
Amongst the arguments purported by him in his book was the theory that those who disappeared during the Pinochet era actually fled the country.
Contreras' health took a turn for the worse during the last 12 months, receiving treatment for colon cancer, diabetes and thrombotic sequelae.