Egyptian president unveils pet Suez Canal project
Comments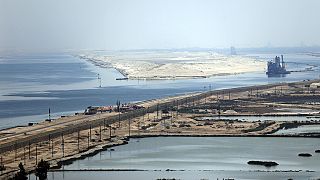 It is a pet project that comes with a cool price tag of nearly eight billion euros.
A second Suez Canal has been a top priority for Egyptian president Abdel Fattah al-Sisi.
He came to power after ousting the former head of state, Mohammed Morsi.
Egypt's new strongman pledges that he will revive the Egyptian economy and see this project as a key part of that.
The second Suez canal stretches seventy two kilometres alongside the existing waterway.
It was completed in just one year.
The Suez Canal opened in 1869, with Britain buying a controlling stake in it six years later to secure a safe trade route to India.
President Gamal Abdel Nasser nationalised Suez in 1956, which was controlled by both Britain and France at the time.
The move was popular in Egypt and across the Arab world.
It prompted the so-called Suez canal crisis when Britain, France and Israel launched a joint attack on the area in September of that year.
But US pressure led Britain to call off the operation on November the 7th.
It marked a humiliating end of influence in the region for both the British and the French.
According to the Suez Canal Authority, the new waterway will lead to a near two-fold increase in traffic, as well as a tripling of revenue.
But economists say those projections are highly speculative.
The existing canal is running below maximum capacity. Transport volumes are down this year owing to China's economic downturn and reduced Western demand for oil from the Persian Gulf.