More Stock Exchange losses in Greece as banking shares plunge
Comments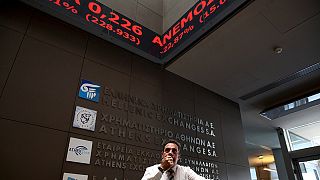 After a Black Monday, it is proving to be a tumultuous Tuesday on the Athens Stock Exchange.
Stocks were down 4.5 percent in early trade, a day after record losses were sustained when the bourse opened following a five-week shut down.
For the second day running, all four major Greek banking stocks were down around 30 percent in early trade on Tuesday, with investors still spooked by questions surrounding Greece's bailout from the European Union and the country's worsening economy.
Against this backdrop, ratings agency Standard and Poor's has downgraded its outlook for the EU as a whole from 'stable' to 'negative'.
S&P downgrades outlook for EU after Greece crisis http://t.co/kUbqMJysCMpic.twitter.com/22hrZfaOjJ

— Kathimerini English (@ekathimerini) August 4, 2015
On the positive front, Greek press reports suggest that Athens could be ready to sign a final loan agreement with its international creditors by August 20.