Sweden launches inquiry over discovery of suspect Russian sub
Comments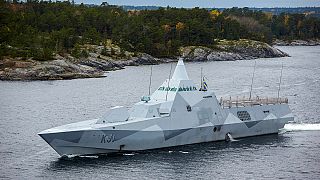 Sweden is studying video footage of what purports to be a wrecked Russian submarine off its eastern coast.
Officials are holding back on pointing the finger at Russia until they have concrete evidence.
"We choose not to comment on it before we have seen more material. We will continue the analysis together with the company in the coming days," said Swedish Armed Forces spokesman Anders Kallin.
Ocean X Team, the shipwreck company that discovered the wreck, said on its website: "It is unclear how old the submarine is and for how long it has been at the bottom of the sea, but the Cyrillic letters on the hull indicate that it is Russian."
Experts are divided on find. One told the Expressen newspaper it looked modern but another quoted by the paper said he believed it was a Russian submarine that sank in 1916.
Recent events in Ukraine have caused tensions between the two countries to increase.
The country launched its biggest military mobilisation since the Cold War less than a year ago when it went on the hunt for a Russian Sub said to be seen near Stockholm.
During the Cold War, the navy repeatedly chased suspected Soviet submarines along its coast with depth charges. In 1981, in an incident known as "Whiskey on the Rocks," a Soviet nuclear Whiskey-class submarine was stranded near a naval base deep inside Swedish waters after it ran aground, causing a diplomatic standoff.
There have been many false alarms. In 1995, then-Prime Minister Ingvar Carlsson said the military on several occasions thought it had detected submarines only to find many of the underwater sounds were made by minks.
In April, the Finnish military used handheld underwater depth charges as a warning against what it suspected was a submarine in waters off Helsinki.