Angry Greeks accuse eurozone leaders of blackmail
Comments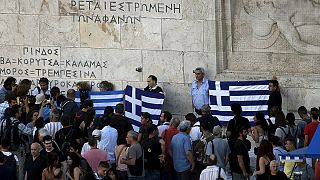 A protester burns a Syriza party flag during a demonstration against the bailout deal secured by Greek Prime Minister Alexis Tsipras.
As the details began to emerge of the tough conditions imposed by international lenders before Greece will have access to 86 billion euros there has been an out pouring of anger.
Athens resident Sandra Demertzis said:
"It's a catastrophic agreement, but I expected it because within the eurozone there was no way we could ever get anywhere. They are gangsters, they are financial murderers. There was no way."
Some ministers laid the blame firmly at the feet of Germany and and several other eurozone countries .
"Yesterday, the prime minister of the country faced a coup d`etat, a coup led by Germany and other countries like the Netherlands, Finland and the Baltic countries, a coup that came to the point of blackmailing the Greek prime minister with the collapse of the banks and a complete haircut on deposits," said Greek Defence Minister Panos Kammenos
The "compromise" that pushes #Greece into the abyss http://t.co/CCTiS1pCif

— John Tasioulas (@JTasioulas) July 13, 2015
Prime Minister Tsipras who is facing dissent within his own party over the deal has also been accused by voters of reneging on election promises to end austerity.
On Wednesday when he is obliged by the terms of the agreement to push a raft of unpopular tax and pension reforms through parliament, public sector works plan to hold a national strike.
The main points of Greek debt deal
The Greek parliament must immediately adopt laws to reform key parts of its economy – by Wednesday. The reforms include: streamlining the pension system and boosting tax revenue – especially from VAT.
Labour market must be liberalised, electricity privatised and shopping hours extended.
A new trust fund of privatised assets will be set up, managed by Greece, with €50bn of Greek assets. It is a mechanism for paying off part of Greece's debt while the other half will be used to fund recapitalisation of Greek banks.
Greece will get short-term bridge financing to avoid bankruptcy. The amount is estimated to be €7bn by next Monday and another €12bn by mid-August
The European Central Bank, eurozone finance ministers and the IMF to monitor Greek compliance with the bailout conditions.
Negotiations on the ESM bailout will begin only after the plan is approved by the parliaments of Finland, Germany and Greece.