Tunnel '1.5 km long' aids Mexico drug lord El Chapo's jailbreak
Comments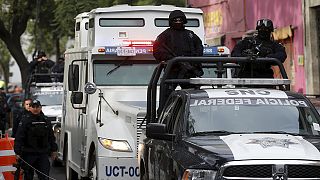 Mexican authorities say the country's most notorious drug lord escaped from prison via a tunnel that began in his cell.
A huge manhunt is underway for Joaquin Guzman – known as "El Chapo" or "Shorty" – following his second escape from a high-security jail in 14 years.
He was captured in February last year after more than a decade on the run.
In 2001 he had reportedly broken out of jail by hiding in a laundry basket.
This time he was last seen in the prison showers on Saturday night.
"The tunnel starts with a rectangular hole, about 50 by 50 centimetres, and 1 metre deep. This hole is connected, in turn, with a vertical duct which is 10 metres deep, and equipped with a staircase," said Monte Alejandro Rubido, Mexico's National Security Commissioner.
He added that another tunnel connecting the prison with the outside world was 1.5 kilometres long.
Eighteen people were being transferred to Mexico City for questioning over Guzman's escape, Rubido said.
Roadblocks were set up and flights suspended from Toluca airport near the jail, close to Mexico City.
El Chapo, who headed the powerful Sinaloa cartel, had been serving a sentence of over 20 years and had also been indicted in the US for drug trafficking.
But his many supporters argue he provides vital jobs in poor areas.