Greece told it must restore trust to earn rescue
Comments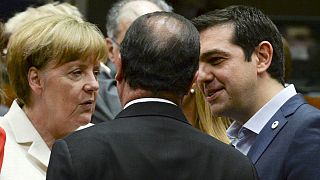 Eurozone leaders are telling Greece it has to restore trust by enacting key reforms before talks can open on a new financial rescue package to keep it in the single currency.
I'm here ready for an honest compromise. We owe that to the peoples of Europe who want Europe united and not divided
The German Chancellor Angela Merkel says conditions are not yet right to begin negotiations.
A full EU summit was cancelled but eurozone leaders are meeting in Brussels for a make-or-break deal.
"I'm here ready for an honest compromise. We owe that to the peoples of Europe who want Europe united and not divided. We can reach an agreement tonight if all parties want it," said Greek Prime Minister Alexis Tsipras.
Greece has offered to meet most creditors' demands in return for a new bailout.
Eurozone finance ministers ended hours of talks this weekend without a firm recommendation; reports say they want Athens to act first.
"We've just finished our meeting. We've come a long way, we solved big issues but some big issues still remains, so we are now going to inform the leaders and they can discuss and hopefully decide on those last issues," said Eurogroup President Jeroen Dijsselboem.
It's thought the Eurogroup wants Athens to pass laws on VAT, pensions and other reforms before bailout talks can even begin.
Several eurozone countries are adopting a hardline stance – with no agreement on emergency finance. Notably, France and Germany are at odds over Greece's immediate future.
France and Italy share concerns about Greek promises but, along with the European Commission and European Central Bank, are wary of a "Grexit" from the eurozone that could undermine faith in the entire single currency. Paris is concerned that Germany – or at least its finance minister – is too inflexible, sources said.
Wolfgang Schaeuble, who predicted earlier that the talks would be "exceptionally difficult", has reportedly been at the centre of some heated exchanges with eurozone counterparts over the weekend.
Euronews correspondent in Brussels Sandor Zsiros said:
"After the first statements the eurozone seems to be divided. Some countries want an immediate solution on the Greek crisis, others say they don't want a deal with Athens at any price. A big debate is set to take place at the summit".
Yet Greece needs funds now, its banks are in danger, and the country's future in the eurozone remains on a knife-edge.