Serbia protests after PM Vucic attacked at Srebrenica massacre anniversary
Comments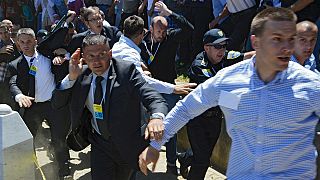 Serbia has protested to Bosnia after its prime minister was forced to flee a ceremony in Srebrenica to mark the 20th anniversary of the massacre by Bosnian Serbs of 8,000 Muslim men and boys.
This genocide is still a shameful smear for the international community which recognises being unable to defend those innocent people
The event was overshadowed when Aleksandar Vucic came under a hail of stones and bottles, in what Belgrade later described as an organised "assassination attempt".
Serbia still denies the mass murders amounted to genocide, as a UN court ruled it was.
"Yesterday Serbia's former President Tadic told him: go to Srebrenica and apologise to the people there. Vucic replied 'I'll never admit that it was genocide. I'll go to Srebrenica with my head held high'," said Rejha Avdic, the mother of a Srebrenica victim.
But the head of the Association of Srebrenica Mothers, Munira Subasic, said she was "terribly disappointed" by the scenes.
Serbia's PM, once a hardline nationalist, said he had come to build friendship – a move acknowledged by Bosnia's tripartite presidency, which expressed its "deepest regret". The EU and the US also condemned the attack.
Later, busloads of Bosnians passing through a neighbouring village after the event were reportedly attacked in what was thought to be an act of revenge for the assault on Serbia's prime minister.
Two decades after the Balkans wars, tensions remain.
Even so, tens of thousands marked the dark anniversary events in the open air, which saw the remains of 136 newly-identified victims laid to rest.
Some 100,000 people died in the Bosnian war, before a U.S.-brokered peace deal created a complex and unwieldy system of ethnic power-sharing that remains today and is frequently held hostage to nationalist politicking.
Euronews correspondent in Srebrenica, Laurence Alexandrowicz, said:
"Twenty years ago there were as many people as today, at the mercy of the Serbian army. This genocide is still a shameful smear for the international community which recognises being unable to defend those innocent people. Today, Bosnians have one principal demand: that all war criminals be brought to justice."