Bosnia remembers mass killings in Srebrenica
Comments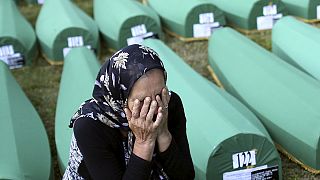 Crowds have gathered in the village of Potocari to remember the thousands of Muslim men and boys who were killed in the bloody climax to a three-and-a-half-year-long war in Bosnia in the early 90s.
The massacre brought the town of Srebrenica, where the Potocari memorial is situated, to international prominence.
Then protected by the United Nations, the municipality was overrun by Bosnian Serb fighters in July 1995. The invasion culminated in a mass killing which shocked the world.
20 Years Since the Srebrenica Massacre - Photos from 1995 and today on a somber anniversary - http://t.co/fKWmlR8v39pic.twitter.com/qksDmmS0QX

— The Atlantic Photo (@TheAtlanticFOTO) July 10, 2015
More than a hundred newly-identified victims are being buried on July 11, 20 years after the atrocity.
Lejla Hasanbegovic could be seen carrying one of their coffins. She said it contained the remains of her brother, who was 17 when he was killed.
Srebrenica burials to continue, 20 years on. Photos: http://t.co/mJifDaV7xG by @cmatiashpic.twitter.com/9Ham1EZkk5

— Wall Street Journal (@WSJ) July 11, 2015