Srebrenica peace marchers remember 1995 mass killing
Comments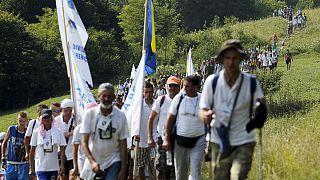 A historic three-day trek takes marchers back to Srebrenica, 20 years after Europe's worst atrocity since WWII. The peace path is the same route along which some 14,000 men fled the danger zone to reach free territory. The marchers today, however, head northwards towards the scene of the massacre, for commemorations the 11th July weekend.
Djile Omerovic organised the march. He told us: "For me it's a return the way you came, to confront your past. You're so tired from walking that you almost fall. But you remember. I remember there was a man with both legs injured. He walked in 1995. He cried all the way but he walked."
Omerovic was 21 then. He spent two months dodging Serb soldiers in the forests before he could get free.
Pilav, a doctor who was 31 then and who also fled with the column, said:
"The column was attacked from the first day we left Srebrenica. It was terrifying. As well as guns and grenades they used toxic gas."
The march leads past the site where most of the 8,000 victims of Srebrenica were killed. There has been a peace march each year since 2005. Between 8,000 and 9,000 people have come this year, taking the trail lined with mass graves and remembrance plaques.
Our correspondent Laurence Alexandrowicz explained:
"A sizeable security force comes along with this event, since each year the most radical of the Bosnian Serbs threaten to disrupt things. They have vowed to protest if ever the flag of the Islamic State movement appears, crudely labelling as Islamist terrorists these Muslim pilgrims."
Among the few foreigners we met were an Indonesian who lives in Canada. Ridho is one of the younger generation come to offer support. He said local people really appreciate interest from abroad.
Some 500 survivors of the original march have been leading this cortege. In Srebrenica funerals will be held for 136 newly-identified victims of the massacre, which took place 20 years ago.