South Carolina Senate passes legislation to remove 'slavery flag'
Comments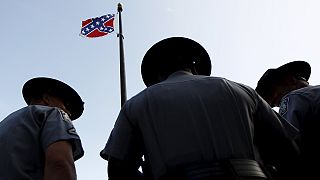 South Carolina's Senate has voted to remove the Confederate battle flag from flying above the state capital's grounds.
A bill to banish the flag to a museum easily passed a third and final reading by 36 to 3. The legislation is now headed to the state House of Representatives.
The flag is viewed by many as a symbol of slavery which has been compounded by the gunman in the Charleston church massacre being photographed with one.
Nine black church-goers were killed last month by white suspect Dylann Roof.
Although some see the flag as part of their heritage, support for it has evaporated amid a wave of sympathy for the victims and their families.