Dawn Fraser apologises for racist attack on Kyrgios and Tomic
Comments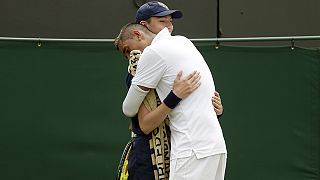 Australian swimming legend Dawn Fraser apologised Tuesday for her extraordinary attack on tennis stars Nick Kyrgios and Bernard Tomic in which she suggested that the two should set a better example or go back to where they came from.
Fraser, who won four Olympic gold medals, made her comments in an interview with Australia's Channel Nine television on the topic of Kyrgios' petulant behaviour on court at Wimbledon and Tomic's criticism of Tennis Australia for dropping him from the Davis Cup squad.
"They should be setting a better example for the younger generation of this great country of ours," Fraser said. "If they don't like it, go back to where their fathers or parents came from."
"it's absolutely disgusting. I am so shocked to think that he went out there to play and he tanked…that's terrible."
Kyrgios, who is Australian-born, has a Greek-born father and a Malaysian-born mother while Tomic, who is German-born, has a Croatian father and Bosnian mother.
Her claims sparked a social media outrage, with Kyrgios' mother tweeting, amongst others, "I have no comments on Dawn Fraser's nasty racist attack…but she is out of line."
Channel Nine host Karl Stefanovic appeared to gloss over the comments, but Kyrgios himself later posted on his Facebook page after the interview in response to Fraser.
"Throwing a racket, brat. Debating the rules, disrespectful. Frustrated when competing, spoilt. Showing emotion, arrogant. Blatant racist, Australian legend," he wrote.
Although Fraser initially defended her claims, she later said: "I want to unreservedly apologise for any comments that I made this morning which may have caused offence to my fellow Australians, including Nick and his family.
"The live-to-air clip was part of a larger un-broadcasted interview however this does not condone what was said."
Australia's Race Discrimination Commissioner Tim Soutphommasane also weighed in to the controversy by telling the National Press Club "contrary to what the likes of Dawn Fraser might say, most Australians do not tell migrants and their children to go back to where they came from."
The interview came after Kyrgios lost 7-5, 6-1, 6-7 (7-9), 7-6 (8-6) to France's Richard Gasquet in round four at Wimbledon on Monday in a heated and emotional match.
Kyrgios was booed by spectators for supposedly "tanking" or not trying to return Gasquet's serve mid-way through the second set before hugging a ball boy. He also ran into trouble with the umpire over his language and the time it took to change his socks.
He could now face a US$ 20,000 fine due to Grand Slam rules which require players to try their best, but has fended off accusations that he gave up the set.
"Of course I tried," he said. "There was a lot of ups and downs. It was a tough, tough time, especially when he's not missing any balls."
"I'm getting frustrated myself. I feel as if I'm playing not how I should be playing. I'm angry at myself."
Fraser's outburst, however, is not her first concerning race. In 1997 she said she was sympathetic to Pauline Hanson's cause and even considered standing for Hanson's rightwing One Nation party.
Before the 1998 elections she was quoted as saying: "We've got a lot of problems in our own country and we should be looking at our own first, before looking overseas."