Syria: Fierce fighting as Assad army and rebels push to make key gains
Comments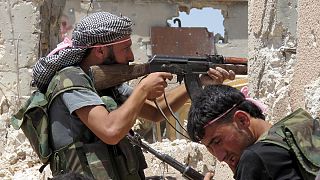 The army of President Bashar al-Assad and his allies, the Lebanese Shi'ite group Hezbollah, say they have launched a major ground and air assault to recapture the rebel-held Syrian city of Zabadani.
One of the insurgents' last strongholds along the border between the two countries, Zabadani is of crucial importance.
Not only is it near Damascus but it is also close to the main highway linking the Syrian capital to Lebanon's capital city, Beirut.
Footage released on Hezbollah's TV channel al Manar and Syrian state TV showed large plumes of fire rising from Zabadani, and the sounds of aerial bombardment and heavy artillery shelling could be heard.
The Syrian army said it had inflicted heavy casualties on "the terrorist groups fortified inside the city" and was advancing from several fronts towards their positions.
The rebels said they had planted mines around Zabadani, which is now mostly deserted, and were well prepared to repel the assault.
Syria's army is fighting on multiple fronts, battling rebels around Deraa in the south and ISIL militants at Hasaka in the northeast.
Syrian government forces have also carried out heavy air strikes on rebel positions in and around the northern city of Aleppo, aiming to repel a major Islamist-led offensive on areas controlled by President Assad.
Aleppo, 50 kilometres south of the Turkish border, was Syria's most populous city before the country's descent into civil war. It has been partitioned into zones of government and insurgent control since 2012.
Rebels now claim to have seized a scientific research centre there and an insurgent alliance including the al Qaeda-linked Nusra Front say they have set up a joint operations room to run the offensive to "liberate" Aleppo and govern it according to Islamic Sharia law.