And also... ISIL cake, one second of havoc and when flashing goes wrong
Comments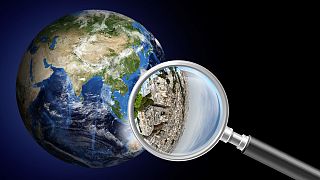 Every Friday journalists from euronews' various language teams choose a selection of stories from Europe and beyond, which may not have reached the international headlines.
USA

: 'Sorry for the

ISIL

flag cake'

Walmart has reportedly issued an apology for making a cake featuring the flag of the self-proclaimed Islamic State militant group (also known as ISIL, or ISIS).

Chuck Netzhammer of Louisiana ordered the cake a day after the store allegedly refused to bake him a Confederate Flag cake with "Heritage Not Hate" written on.

A YouTube video in which Netzhammer condemns Walmart for making the controversial cake was removed after gaining almost half a million views.
Walmart store denies request for Confederate flag cake, but accepts and makes ISIS flag cake: http://t.co/1PSqQyFiMbpic.twitter.com/6ZU7R458qT

— Good Morning America (@GMA) June 30, 2015
Turkey: blocking Gay Pride with a rainbow
Turkish authorities trying to stop a Gay Pride parade in Istanbul may have, unwittingly, supported the event, if this photo is to be believed.
View post on imgur.com
The water cannon used in an attempt to prevent the celebration seem to have caused a rainbow to form. The mulitcoloured motif is universally-recognised as a symbol of lesbian, gay, bisexual and transgender (LGBT) pride.
Taksim'de polisin sıktığı tazyikli su gökkuşağı oluşturalı 1 gün oldu. pic.twitter.com/CRSmP6nerw

— Kaç Saat Oldu? (@saatoldu) June 29, 2015
("Police react with water cannon. Karma reacts with a rainbow.")
Zimbabwe: Mugabe 'to propose to Obama'
Zimbabwe's contentious and long-running President Robert Mugabe offered to get down on one knee for US President Barack Obama.
Following the legalisation of gay marriage by the US Supreme Court, Mugabe gave a radio interview in which he said:
"I've just concluded: since President Obama endorses the same-sex marriage, advocates homosexual people and enjoys an attractive countenance, if it becomes necessary I shall travel to Washington DC, get down on my knee and ask his hand."
LOL #Mugabe Perhaps I should ask #Obama to marry me | http://t.co/mJcRj88AxZ@DrDamages@AnthoniaOrji@jag_bros Ehen! pic.twitter.com/D4bvH0um7k

— Zahra Buhari (@Zahra_Buhari) July 2, 2015
Worldwide: one second to wreak havoc
A leap second was added to world clocks at midnight on Tuesday (June 30-July 1), wreaking havoc for some web networks.
Amazon Web Service (AWS) had a connectivity issue lasting almost an hour. It provides the Internet infrastructure for major sites, such as Pinterest, Instagram and Netflix.
Germany: be careful who you flash…
A 32-year-old exhibitionist from Wiesbaden in central western Germany was in for a shock when he attempted to flash a woman who was cycling past him.
What he didn't know when he jumped out of the bush was that she was an off-duty policewoman. She alerted her colleagues and detained the man until police back-up arrived.
Sources