Tsipras says if Greeks approve the EU's aid plan, Syriza will resign
Comments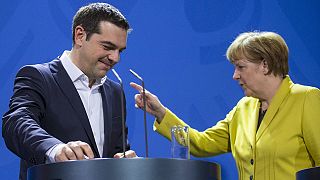 Prime Minister Alexis Tsipras has told the Greek people that if they vote to accept the terms of continued EU financial aid in Sunday's referendum he would get the deal through parliament, then resign.
He reaffirmed his call for the deal to be rejected.
"The bigger the turnout and the wider the no-vote to that deal, the bigger the possibility for a substantial restart of negotiations, so that we can take a course of viability and reason," he said.
He added a strong 'no' would strengthen his hand in Brussels, which he warned should weigh the consequences of a Grexit.
"I don't believe that they want to kick us out of the euro and they won't. They won't, because the cost would be huge."
As he spoke a huge anti-austerity crowd gathered in central Athens. There is a great feeling at large that the country is at a turning point, and entering unknown territory, with a far-from-certain outcome.
In the long interview with two leading journalists he insisted that in the past five months Greece's European partners and the lending institutions had repeatedly moved the goalposts, demanding more each time Greece had offered compromise.
He added that in his opinion the Eurozone's stance was as much driven by politics as economics, as other people in Europe suffering under austerity policies had to be offered Greece as an example; Syriza intended to show there was another way instead of austerity, and that the Eurozone's leaders were determined to strangle that idea at birth.
Greece will not be paying Tuesday's 1.6 billion euro IMF bill; a default. "How can we pay the IMF," said Tsipras" when our banks have been all but suffocated out of existence?"
Live updates of the situation in Greece