Knesset to punish Arab Knesset politician over Gaza flotilla
Comments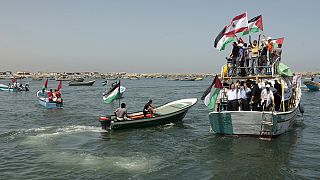 A flotilla of boats being prepared by activists to try and break Israel's blockade of Gaza is about to set sail as soon as weather conditions permit.
In the meantime Basel Ghattas, an MP with the joint Arab List in the Israeli Knesset who plans to take part in the flotilla is to be stripped of his parliamentary immunity from prosecution.
"The Israeli government will try to turn the attention from the Gaza tragedy where an entire people is suffering, on to a personal case, that of the participation of an Israeli Arab member of the Knesset in this this Flotilla. Our answer will be to focus on the real issue, that of occupation," said Ghattas
Israel is adamant that its blockade is necessary for its security and is trying to prevent the flotiila from sailing . Back in 2010 a similar mission ended tragically with ten activists being killed after a botched Israeli commando raid on the ships.
Our reporter Aissa Boukanoun said measures have been taken to prevent a repeat of any aggression:
"All participants in the flotilla have signed documents vowing to respect the rules which have been adopted on board. These pertain to that fact that all passengers were trained in non-violence and they undertake not to respond to any provocation including that of any Israeli military action taking place to prevent the flotilla from achieving its objective."