French president offers words of support to Italy over migrant crisis in Milan
Comments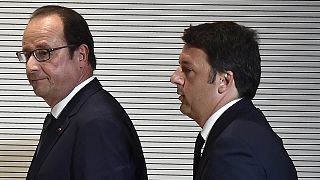 French President Francois Hollande tours his country's pavilion in Milan. Though the theme may be the environment, the migrant crisis in the Mediterranean took precedence as he met with Italian premier Matteo Renzi.
As Europe struggles to agree on how to deal with the thousands of migrants arriving on its shores, Hollande showed support for Italy in dealing with the influx.
"It is not because Italy is in the South of Europe that it should together with Greece and Malta, be the (only) ones to make an effort for the benefit of all. It is not Italy's duty to take care of this operation and this mission, other countries are to be concerned," he announced at a press conference.
While Renzi took aim at an EU agreement which means that migrants must be processed in the first state they entered, which currently puts a lot of pressure on countries with a Mediterranean coastline.
"Let me be clear, I do not think that signing the Dublin agreement was a good idea, especially for Italy, but I'm not interested in creating a controversy within my country against the political party that was then in the government," explained Renzi.
Behind the rhetoric the issue of sharing responsibilities remains visible along the French-Italian border, where many African migrants turned out in Ventimiglia to protest against France blocking them from crossing the frontier.