Scandinavian right wing politics winning more and more votes
Comments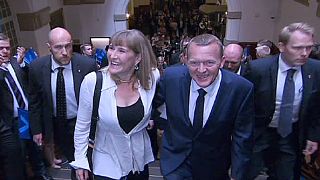 Another strong showing by the right in northern Europe: the Danish People's Party is celebrating its victorious result in legislative elections, with 21% of the votes.
This makes the anti-immigration People's Party (DPP) Denmark's second-largest political party, and the leading partner in the right wing bloc — dislodging the left from government.
Described by detractors as populist or even far right, the DPP confirms an anti-immigration trend in the Nordic countries.
Over the last year and a half the right in Denmark, Sweden and Finland have all enjoyed growing strength.
In Swedish elections last September, the right wing Sweden Democrats became the third-largest party.
The nationalist-oriented Finns Party in April emerged from elections as Finland's second largest party.
Norway's Progress Party, which some political scientists say verges on the extreme right, teamed up with the Conservatives to win the 2013 election and enter government for the first time.
As a top energy exporter, non-EU Norway is in enviable economic condition compared to most of Europe, but has nevertheless felt reverberations from the global financial crisis, the euro crisis and migration.
Along with their reputation for prosperity, the Nordic countries have among the world's most welcoming immigration policies. So, of course they are desirable destinations. Their crime rates are the lowest in Europe, yet parties with broad popular appeal attribute crime to them.
Interviewed while walking around in central Oslo, Norway's Progress Party member Sigurd Fredeng said: "Normally, there are a lot of people selling drugs here. Maybe because it's very cold today, that's why there aren't so many people, but many people sit here — Romanian people."
The Scandinavian countries' buoyant economies require them to import labour, yet at the same time, the right wing parties are keen to cut down on granting asylum and to reduce benefits for immigrants.