Pope Francis bestrides global diplomacy with his environment encyclical
Comments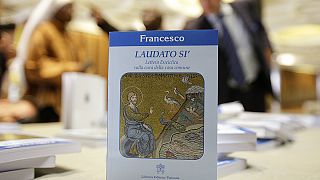 The most awaited, and controversial papal document in half a century has been published. Pope Francis's encyclical on the environment is also the first on the subject in the history of Catholicism, and it has stirred up a hornet's nest.
The Pope says he wants to influence the upcoming UN climate summit in Paris.
"This is an appeal for responsibility based on the task that God has given to man in creation; till and keep the garden in which he was placed," he said to a packed St. Peter's square in Rome.
The Vatican's press office has batted away criticisms from conservatives, led by several US republican presidential candidates.
"He doesn't want to give recipes, it's not up to him, but he says that political leaders must care about these issues," said Vatican journalist at Il Fatto Quotidiano Marco Politi.
In the encyclical the Pope condemns "a myopia of power politics" that has delayed decisive action, and what he called a "magical conception of the market" as being capable of solving all problems via growth.
In a much-remarked phrase, he also challenged the notion of private property if that endangered the public good. The Pope is due to address the UN and US congress on sustainable development in September.