US to send 450 more troops to train Iraqi forces fighting ISIL
Comments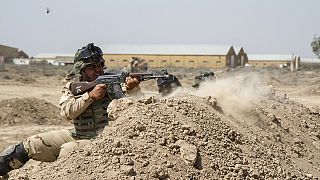 The United States announced on Wednesday (June 10) it will deploy 450 more troops to train Iraqi government forces and help them try to retake territory lost to Islamic State militants.
The move will reinforce the 3,100-strong U.S. contingent of trainers and advisers already active in Iraq. It comes as President Barack Obama faces growing criticism over the limited U.S. military role in fighting ISIL jihadists on the ground.
The troops will be based west of Baghdad, in Anbar Province, in a bid to help Iraqi forces reclaim the provincial capital Ramadi, which ISIL captured last month.
A training hub will be set up at the Taqaddum military base, just 25 km from Ramadi. The U.S. troops will also help guide Iraqi efforts to retake the nearby city of Fallujah, which ISIL has been controlling for more than a year, U.S. officials said.
Washington is also considering creating a new military hub elsewhere in Iraq as the campaign against ISIL advances, General Martin Dempsey, the top U.S. military officer, said on Thursday (June 11). He acknowledged such a move may require deploying additional troops.
The United States has so far relied mainly on air strikes against ISIL targets, and steered clear of committing too many troops on the ground again after U.S. forces pulled out of the country in 2011.
Meanwhile, ISIL militants have seized a third of Iraq over the past year, in a campaign marked by mass killings and beheadings.