Cuba and Colombia on EU-CELAC agenda
Comments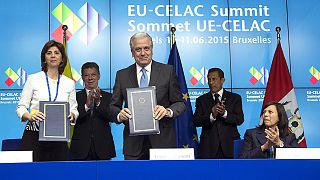 More initiatives to promote trade and financial links are expected on the second and final day of the EU-CELAC "partnership" summit in Brussels.
Day one saw the European Union commit 118 million euros in investment support for Latin American and Caribbean states.
There was also the signing of a visa waiver agreement with Peru and Colombia aimed at easy travel.
But as our reporter Marta Vivas says there are other pressing issues:
"At this summit the leaders hope to back up the peace process in Colombia and the future political agreement on the cooperation between the EU and Cuba."
But according to demonstrators outside the summit there is a darker side to trans-Atlantic trade benefits. In several Latin American countries "trade unionist are reportedly being persecuted"http://www.solidaritycenter.org/central-american-trade-unionists-increasingly-targeted/.
"All this investment of large transnational companies has ended up by causing inequality and aggravating poverty claimed one protester.
In Honduras alone since 2009 31 trade unionists, are said to have been murdered there trying to defend workers' rights.