Mosul, turning point in a 'spiral of horrific crimes'
Comments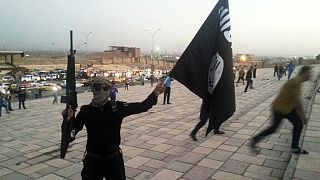 One year ago, ISIL took Mosul, and the world started to take the radical Islamist movement more seriously. It was a turning point.
Government forces abandoned Iraq's second-largest city, and with it a vast supply of US weapons and armoured vehicles. The jihadists seized around a third of Iraq last June. ISIL still holds Mosul.
Coinciding with this dark anniversary, a report by Amnesty International focuses on the "plight of Iraqi civilians caught in a spiral of horrific crimes by ISIL, and brutal revenge attacks by the now dominant government-backed militias."
Although many fled, many who stayed celebrated the order the Salafist ISIL imposed — Sunni residents who had had enough of dysfunctional Shia-dominated Iraqi governance. But soon accounts emerged that the welcome swiftly wore out.
Amnesty's report speaks of the ethnic and minority killings and retaliation, a vortex of sectarian violence committed "by all sides", and the suffering of civilians.
The self-proclaimed Islamic State proved effective at far more than sophisticated propaganda — including beheadings and mass executions. Their military showed a capacity for rapid advance using light vehicles, and adaptability with captured artillery, tanks and armour.
Amnesty's Senior Crisis Advisor Donatella Rovera described a deadly spiral, saying: "The heinous crimes of [ISIL] have been met by growing sectarian attacks by Shia militias, who are taking revenge for [ISIL] crimes by targeting Sunnis."
In Barwana, bound and blindfolded villagers were executed by Shia militia and government forces in January, Amnesty said, adding that these forces have killed scores of Sunni civilians across Iraq, in some cases forcibly displacing entire communities.
Nouri al Maliki, for eight years prime minister until last September, was criticised as keeping wounds open between his government and the Sunni minority.
Amnesty's Rovera said: "Looking back at the carnage and chaos… the picture that emerges is of an Iraq more fractured and bitterly divided than ever."