French ship Hermione arrives in Yorktown 234 years after helping USA gain independence
Comments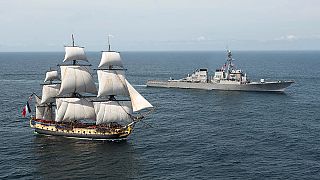 The French tall ship Hermione has crossed the Atlantic and arrived in Yorktown in the USA.
It is a replica of the boat that took 5,500 French troops to fight the British during the American revolution in 1780.
The ship was also involved in the naval blockade that cut off support for British troops during the decisive battle of Yorktown in 1781.
Construction of Hermione began in 1997 based on drawing of its sister ship La Concorde.
It will now go on a 12 city tour along the East coast.