Scotland's Sturgeon raises prospect of second independence referendum if UK quits EU
Comments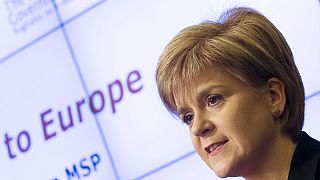 Scotland's First Minister has warned a UK exit from the EU could bring about a second independence referendum.
Nicola Sturgeon was in Brussels to address policymakers at a leading think-tank during which she set out her vision for the EU.
She told euronews that she wanted Britain to stay in, but added the vote could make the case for Scotland breaking away.
"I will argue in the EU referendum that the UK should stay in because I think that it's overwhelmingly in our interest" said Sturgeon.
"I've set out as a statement of fact that if after that referendum, Scotland finds itself outside because the UK has voted that way, I think there would be a lot of people who would say: "Hold on! We don't want to be out of the European Union so we will have to look again at whether we should be an independent member of the European Union."
Sturgeon says a Brexit should only be allowed to happen if England, Wales, Scotland and Northern Ireland all back it.
The so-called double majority has already been rejected by Prime Minister David Cameron.
The British premier embarked upon a whistle-stop tour of Europe last week to try and drum up support for his EU reform push.
He wants tighter controls on EU migrants' access to benefits; a guarantee that non-eurozone members would not be discriminated against in decisions taken by the eurozone, and to make it easier to deport foreign criminals.