Moscow produces blacklist of EU citizens barred from Russia
Comments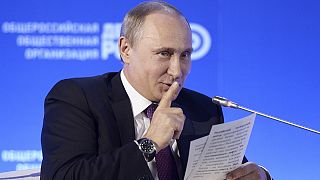 Moscow has released a blacklist of 89 EU officials and military personnel barred from Russia.
Though not confirmed, European officials were quick to circulate the names on social media which included former Belgian leader and MEP Guy Verhofstadt and Britain's former deputy prime minister Nick Clegg.
I'm banned from #Russia again - first time since 1972! #45 on the hit list http://t.co/JF02rAkumF

— Ed McMillan-Scott (@emcmillanscott) May 29, 2015
The Green group in the European Parliament slammed the move, but said it came as little surprise in a statement on their website:
"This blacklist is a heavy blow for EU-Russia relations, even if its confirmation is not a surprise. The blacklist targets European politicians who have engaged in the promotion of human rights, democracy and the strengthening of civil society in Russia and those who have supported Ukraine. Vladimir Putin evidently interprets any honest criticism of his authoritarian course as a threat to his power."
Heavy blow for EU #Russia relations. Statement on blacklist of EU politicians incl Green MEPs http://t.co/pFRcTEZdUrpic.twitter.com/t6ILtBD37P

— Greens in the EP (@GreensEP) May 30, 2015
A Russian Foreign Ministry official confirmed that the list had been sent to EU countries, but declined to comment on individuals. The EU had suspected a travel ban had been in place as various EU politicians were denied entry, notably for the funeral of Kremlin critic Boris Nemtsov.
#VIDEO: Latvian MEP denied access to #Russia - DW - http://t.co/2o2hNoorIB#Latvia#EU#Nemtsov#Democracypic.twitter.com/ZQkBMruCud

— Dio Perix (@DioPerix) March 11, 2015
Germany's Foreign Minister Walter Steinmeier was quick to condemn the move saying, "I don`t see it as particularly wise to put a ban on entries, and it should have at least been announced so that those affected would have been informed… At a time when we are striving to defuse a tough, dangerous conflict in the middle of Europe this is not a contribution that helps."
The entry ban comes amid tensions between the Europe and Russia over Moscow's role in eastern Ukraine, and appears to be in retaliation to EU sanctions imposed on Russia.