"Nobody knew exactly what was happening", remembering Heysel 30 years on
Comments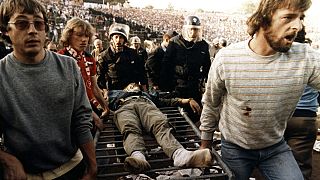 Thirty years on from the Heysel tragedy, the memories echo in the minds of those who were there when 39 people died ahead of the 1985 European Cup final between Liverpool and Juventus. The players themselves say they were in the dark about the dramatic events on the terraces.
Speaking to euronews, Stefano Tacconi was the goalkeeper for Juventus at the fateful match, said:
"Inside the dressing room, nobody knew exactly what was happening, but we knew about the deaths, some people said maybe 1, 4, 5, 6 deaths, we didn't know how many. After the match, we knew the correct number. We were heavily criticised for celebrating the victory, but we were forced to celebrate with Juventus fans inside the stadium by UEFA and the Belgian organisation to avoid our fans leaving the stadium at same time as the Liverpool supporters."
A service was held at Anfield this morning to mark the 30th anniversary of the Heysel Stadium disaster pic.twitter.com/XKAzlFB35r

— Liverpool FC (@LFC) May 29, 2015
Heysel memorial ceremony in Brussels: http://t.co/RzXjpeh7xMpic.twitter.com/dY24RbCiRG

— JuventusFC (@juventusfcen) May 29, 2015
The stadium, which had been condemned as unsafe before the match has now been entirely rebuilt, but it can never erase the pain felt by those touched by the tragedy. For Maurizio Crosetti, a journalist for La Repubblica there is an enduring image.
"The worst thing was that I saw a person dying, I had never seen a person dying before, maybe you'd've see a corpse, but a person dying is the worse thing ever. And I also remember a young girl was only 16 years-old, the youngest girl died, I remember her body on the floor," he said.
Fabrizio Landini, whose uncle died in the tragedy, the authorities have something to answer for holding the match in Heysel.
"The truth is that the match should never have been played, because the stadium was in no condition to play a cup final (…) a dilapidated stadium, crumbling, without protections, a lack of police, and forces of order."
Fourteen Liverpool fans were convicted of manslaughters, but victims' families continue to probe the circumstances surrounding the deaths of their loved ones.