Spain set for change as voters look to oust traditional parties in local polls
Comments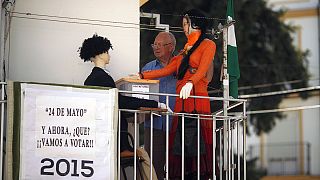 Voters across Spain are casting ballots in regional and municipal elections with an outcome likely to mark the end of the country's dominant two party system.
The electorate are said to be tired of corruption and economic malaise and look set to vote for smaller parties and political mavericks.
Sitting Prime Minister Mariano Rajoy and his Popular Party are expected to lose majorities in most of the 10 regions they control.
The Socialists, led by Pedro Sanchez, are unlikely to benefit from the suspicion in which the current government is held with the public looking to go further by voting for Podemos and Ciudadanos (Citizens Party), the new kids on the block.
The battle for the capital Madrid symbolises the mood in Spain with the Popular Party in real danger of losing a majority it has held for two decades.
Likewise in Barcelona where an anti-eviction campaigner is on course to to upset the formally dominant Convergence and Union Party.
Our correspondent in Madrid says is Carlos Marlaska:"The campaign has been full of reproaches with few actual proposals. The elections look to be the most difficult to call in four decades of democracy in Spain. These elections will boost Ciudadanos and Podemos , but could also pave the way for other parties ahead of general election later this year."