Ireland expected to say "I do" to gay marriage
Comments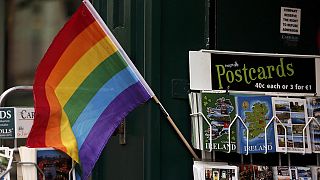 It would have been unthinkable just a few years ago in this most Catholic of countries, but Ireland appears to be on the brink of authorising gay marriage, and via a first-ever referendum on the issue, anywhere.
Friday's vote is forecast to produce a 'yes' result, with a clear split between town and country. In the former journalists have struggled to find a 'no' voter to interview. In the countryside they are less shy, but still unlikely to carry the day.
"I do believe that Ireland is ready for this. You know, it's been years, it's been a massive journey from 1993 from decriminalisation of homosexuality to the equality law back in 1998, then civil partnership just a couple of years ago and it has really happened step by step. And I think Irish people are open and evolved enough to see that it is time that families like ourselves take our rightful place in the light of equality," said mother of newborn baby and partner of Anne Marie Toole, Dil Wickremasinghe.
On the streets of Dublin the 'yes' campaign is clearly winning the ground war. The Church might have been expected to lead the opposition, but it has been cowed by child abuse scandals.
"This is radically changing our constitution to redefine marriage and the family. The government is trying to say that it`s only about two people saying: 'I do', but it is about the family and changing the definition of the family. We're suddenly saying, you know, men and women are interchangeable. Mums and Dads are interchangeable. I think that's extremely radical," said the spokeswoman of action group Mothers and Fathers Matter, Evana Boyle.
It has been left to groups like these and individual commentators to lead the opposition rearguard, but they appear to be swimming against the tide of public opinion.