Palestinians insist on vote to kick Israel out of FIFA
Comments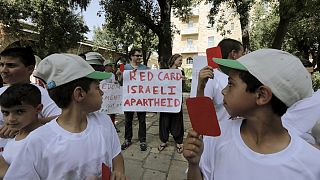 The Palestinian Football Association (PFA) has refused to withdraw its request for a vote on whether Israel should be kicked out of FIFA.
The world football body will ask its 209 members if the Jewish state should be suspended at a congress in Zurich on May 29.
If it were to be suspended it would mean Israel's football teams would be unable to take part in international competitions such as the Champions League, Euro 2016 and the World Cup.
Only twice has a country been suspended from FIFA: South Africa for its apartheid policies in the 1960s and Slobodan Milosevic's Yugoslavia in the 1990s.
The PFA has called for the suspension due to three principal complaints: it says Israel does nothing to curb racism at matches, it prevents the free movement of Palestinian players for training and matches and that five Israeli league clubs are located in settlements in the Palestinian territories.
Racism in Israeli football is well documented. Beitar Jerusalem is the only side never to have hired an Arab player and faces frequent sanctions for chants such as "death to Arabs" and "keep Beitar pure".
Earlier this month the side was docked two points for its fans' racist abuse against a rival team's Arab player.
This was later reduced to one point on appeal,allowing the side to stay in the top four of the Israeli league. This means they are in line to qualify for European competition with two matches of the season left to play.
The appeal judge's ruling said: "After considering the matter, we have decided – and not without hesitation – to give the club and its fans one final opportunity to show that they have indeed learned the required lessons and that from now on they will work to eradicate any racist chanting."
The Israeli Football Association (IFA) says it cannot be held responsible for restrictions imposed by the government which frequently limit Palestinians' movements and holds up the delivery of goods due to security concerns.
The PFA already raised the same issues at FIFA meetings in 2013 and 2014 but a last-minute compromise was found on both occasions to avoid bringing it to a vote.
This time however the head of the PFA Jibril Rajoub has vowed to accept "no compromises" saying Israel has been pulling the wool over FIFA's eyes for too long without taking any positive action.
IFA disputes this saying its doing everything in its power.
Peace match
FIFA President Sepp Blatter arrived in the region on Tuesday where he met with Israeli President Benjamin Netanyahu.
The details of the meeting were not revealed but the pair seemed optimistic and said they're 'sure we will find a solution,' and avert a FIFA vote.
Netanyahu praised Blatter for keeping politics out of sport.
At a later press conference the FIFA boss proposed a 'peace match' between the Israeli and Palestinian national sides which Netanyahu said he would attend if it went ahead.
When Sepp Blatter visited the West Bank city of Ramallah the PFA head told him:
"Yesterday, you raised a very great idea … It's a creative idea, I like it, but we have to pave the road for that, we have to prepare the environment. But this should be an endgame, this should be a purpose for you and I urge you not to give up."
Even if the vote does go ahead it is still not clear what the threshold for suspending Israel will be; 75 percent of members present or 50 percent plus one of members present with abstentions not counting.
The Palestinians are expecting widespread support but a three-quarters majority might prove a stretch too far.
If the Palestinian bid is successful it would strike a major blow against Israel and possibly help open other avenues of attack, such as taking them on at the International Criminal Court.