Brazil: Discovery of dead bodies leads to violent clashes
Comments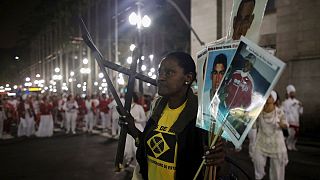 Further, violent protests have broken out in Rio de Janeiro following the discovery of two bodies. Both victims are said to have been stabbed.
After a week of clashes, two buses were torched and barricades of burning tyres set up near some of the Brazilian city's 'favelas,' or shanty towns.
In a different part of the city, five buses were burned earlier in the same week.
Residents say the victims – both male – were bike-taxi drivers from the Morro de Sao Carlos neighbourhood.
Some of those protesting blame the police for their deaths.
"Both men killed were workers," said one local woman. "One was 29 and the other 15 years old. We don't accept that sort of thing here, anymore. We don't accept it. It's not fair."
An ongoing turf war involving drug trafficking gangs has killed at least ten people in the area in recent days.
State Governor Luiz Fernando Pezao says the clashes are a result of the hostility between rival gangs, but says the police have a plan to manage the violence.
"We're going to keep investing more," he announced. "We have some big operations planned, in which we are going to continue to combat crime."
Authorities say they are investigating the deaths. The motive behind the killings is unclear.
Safer than elsewhere?
The recent clashes erupted in so-called 'pacified' favelas. Some 9,000 police officers patrol 196 shanty towns as part of a programme designed to bring security to the city.
A study released by the local government's Public Safety Institute (ISP) in May 2015 states that Rio's pacified favelas have a lower murder rate than the rest of the city.
There were 40 murders in 2014, the study notes, equating to 7.4 such deaths per 100,000 residents.
The murder rate is said to have continued to gradually decline since 2007, a year before the new pacification measures were put into place.
However, the programme has not completely eliminated drug trafficking or violence and some neighbourhoods are still said to be controlled by gangs.
Gun crime
According to the United Nations, deaths linked to gun crime have dropped in Rio, although figures nationwide are at their highest in 35 years. Over 50 percent of those killed in 2012 – the most recent statistics available – were young men, under the age of 30.