The message of healthy food in schools
Comments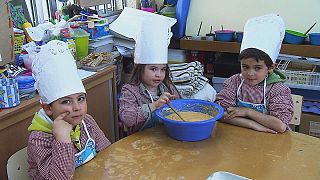 Can beating world hunger and developing food sustainability start at your own kitchen table? In this edition of Learning World we explore some projects that are bringing this global issue to the classroom.
Each class has a garden of its own and the children water and nurture the plants. The vegetables are wholly organic and their lunch is rich in nutrition. We make sure the children get a balanced diet from our school.
Bhutan – the Feeding Programme
Eating well is vital for good health and good health makes a difference to education. But what if you can't afford to feed your child with a balanced diet? Schools in the tiny Himalayan Kingdom of Bhutan not only provide free education but also free food to students who come from poor backgrounds.
One such school is Jigme Losel Primary School where it started what it calls the 'Feeding Programme' in 2009. It is has not only encouraged children from poor backgrounds to attend school and enjoy it, but has also managed to improve their academic performances.
Portugal – growing an education
Learning how to grow vegetables and fruit and how to tend animals is a crucial part of pupils' education at Prado Nursery and Primary School in Vila Real, Portugal. The school won a national competition for their work developing an organic garden and for the way it involved the community and promoted the students' development.
"Making children aware that we should not pollute the environment. Teaching them about the food chain…how to sow, look after, harvest and consume," is how project coordinator Maria Luisa Queiros summed up the work of the school.
Senegal – eating local
The government in Senegal is trying to cut back on rice imports, but it is not always easy to get people to change their eating habits. However, an organisation called PAFA is directly involved in empowering farmers with the aim of reintroducing local cereals.
The project offers training across a number of areas including working with farmers organisations. That has resulted in a ripple effect across many communities. In many urban areas local cereals are now traded in small shops which have opened up.
Another way in which local cereals are being promoted is through local chefs creating new recipes with local produce.
Watch the video to find out more about these stories.