Nepal cash payments for remote earthquake survivors
Comments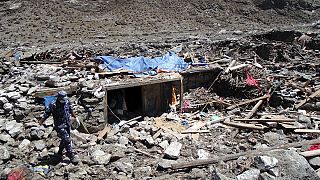 Bad weather has cut links with a remote village in Nepal where dozens of villagers and trekkers are believed to be buried under an avalanche set off by last month's devastating earthquake, officials said on Tuesday (May 5).
About 100 bodies were recovered over the weekend at Langtang village, 60 kilometers north of Kathmandu, which is on a trekking route popular with Westerners.
Welfare payment for remote survivors
Villagers in the mountainous Dhunche village, north-east of the capital Kathmandu, said on Monday (May 4) they were unhappy with the amount of relief money handed out by the government after the earthquake.
The Nepali government gave 7,000 Nepalese rupees (around 60 euros) per family to help with their losses. One resident in Dhunche, Sargi, complained that the sums did not make sense and should be commensurate with people's needs.
"It is so little, what can one do with this? Some have 15 to 20 people in their families, and some have just two people in their family. Those who are just two, for them, it may last for two months. But for 10 to 15 people, how long will it last? It won't last," said Sargi.
Cash pulled from under rubble of bank
Meanwhile Nepal police released footage of one of their rescue teams entering a damaged building, only to find a small treasure.
Under the rubble of a destroyed bank which still held in excess of 25 million Nepalese rupees (over 200,000 euros).
The armed police forces had to drill their way to the treasure which was buried in a branch of the Bank of Kathmandu in the Balaju district of the capital.