UN launches appeal for $415m in aid for Nepal
Comments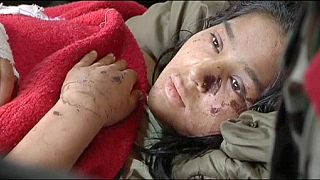 More needs to be done to help the millions of Nepalis fighting to survive following a major earthquake in the region, that's according to the UN who have launched an appeal for almost 400 million euros.
It comes as many survivors are growing frustrated with the government's slow delivery of aid which is pouring in from around the world.
The UN estimates that half a million tents are urgently needed to house those forced from their homes by the quake.
Around 70,000 houses were destroyed while hundreds of thousands more were damaged. Without tarpulin or temporary shelters, some families have little to protect themselves from the elements.
"We sleep on top of plastic bags and sacks and using shawls," explained Sarura sheltering with her family beneath an umbrella. "The children sleep lying down while we have to sleep sitting up."
With broken bridges and roads blocked by landslides the government has struggled to get aid to where it is needed, leaving many to fend for themselves.
"Lots of people, they are homeless right now," said earthquake survivor Prabin Sahs adding,"There is no help from any of the political parties or any other places. But here, we are managing by ourselves. Even this tent, even this wood that we are staying [on], we are doing [this] by ourselves."
There is no let up for those who survived the massive tremors with the approach of monsoon rains which can last from May through to September adding to the logistical challenge to getting help to those in need.