Ukraine marks anniversary of 1986 Chernobyl disaster
Comments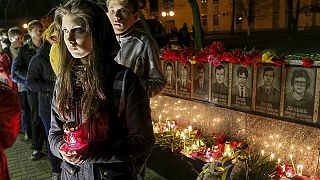 Ukraine's President Petro Poroshenko paid his respects to the victims of the Chernobyl disaster on Sunday marking the 29th anniversary of the world's worst nuclear accident.
It happened 29 years ago today. 04.26.1986. #Chernobyl, #Ukraine. pic.twitter.com/iz373PK8xp

— Christopher Miller (@ChristopherJM) April 26, 2015
More than 30 people died immediately after the explosion in 1986 and more than 4,000 people were killed in the aftermath of the blast and subsequent fire, succumbing to radiation-related diseases contracted after taking part in the cleanup effort.
The plant's fourth reactor, which back in 1986 suffered an explosion sending a cloud of radioactive material into the atmosphere, is currently being encased in what's called a New Safe Confinement structure.
Reporting for euronews from the construction site in Ukraine, Dmytro Polonsky said:
"The new arch which is the height of a 30 thirty-story building has to cover the fourth Chernobyl nuclear reactor by 2017. Ukraine needs about 500 million euro for this project and wants help from European donors."
The structure which is to prevent further leakage of radioactive material will do nothing for the abandoned nearby city of Pripyat which was home to 50,000 people before the disaster.
Meanwhile in neighbouring Belarus, demonstrators marked the Chernobyl anniversary with a protest at the construction of a new nuclear plant being built not far from the capital Minsk. It's being funded by the Russian company ROSATOM.
The rally which was allowed to go on unhindered by the Belarus authorities was an unprecedented gathering with protesters carrying signs that bore anti-Russian and pro-Ukrainian slogans.