Nepal: thousands take refuge in streets after devastating earthquake
Comments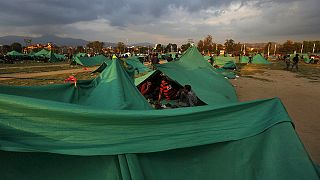 Thousands of people are being forced to sleep in the streets of the Nepalese capital Kathmandu in the wake of the country's devastating earthquake.
Those out in the cold are the lucky ones. The death toll now stands at well over two-thousand.
"We've slept here because we're afraid of aftershocks, because all of the hotels have high floors. So now we are here and we're waiting for the situation to improve," said one French tourist.
The 7.9 magnitude quake struck central Nepal early on Saturday, between the capital and the city of Pokhara.
It reduced buildings and spiritual landmarks to rubble.
People have been told to stay outdoors, as aftershocks continue, including a 6.7 magnitude quake on Sunday.
The focus now is on helping survivors and rescuing those still trapped in the rubble.
Against the odds, a Chinese team has managed to pull a man out from a damaged residential building. He was alive.
As the dead are cremated, the scale of the disaster continues to unfold. There are areas outside Kathmandu yet to be reached.
The worst earthquake in 80 years will leave a lasting scar on the Himalayan nation.
WFP emergency teams are on the ground in #Nepal, responding to the #NepalQuakehttp://t.co/3arGXuIBq1pic.twitter.com/vMEyordkW5

— World Food Programme (@WFP) April 26, 2015
I took these photos an hour apart. Was wandering when quake demolished temples before my eyes. Heartbreaking. pic.twitter.com/RYtIZI4725

— Siobhan Heanue (@siobhanheanue) April 25, 2015
Crowds gather as a handful of rescuers dig through rubble of collapsed residential building by hand #NepalQuakepic.twitter.com/dxi3XC58o5

— Siobhan Heanue (@siobhanheanue) April 25, 2015
International offers of help for Nepal
Offers of help for Nepal are coming in from around the world.
It is a race against the clock to reach those who may still be alive beneath the rubble.
Checks for casualties and damage continue to be carried out in neighbouring countries, including China, India and Bangladesh, which also felt the quake and aftershocks.
#Russia to Send Rescuers to Nepal Earthquake Site, Everest Climbers Alive and Well http://t.co/pWDvQGyH9D#news

— The Moscow Times (@MoscowTimes) April 26, 2015
Rescuers dig out survivor of Nepal earthquake. Hundreds are dead. Latest update: http://t.co/qfbKgvWKZ8pic.twitter.com/Oh4Kq14FUe

— Jim Roberts (@nycjim) April 25, 2015
The history of earthquakes in the Himalayas http://t.co/5VNRGhxUzXpic.twitter.com/hYg4ykvj3Q

— The Independent (@Independent) April 26, 2015
Incredible slideshow of photos by AFP</a>&#39;s <a href="https://twitter.com/robertoindelhi">robertoindelhi at Everest Base Camp w/ akannampilly</a> when <a href="https://twitter.com/hashtag/Nepal?src=hash">#Nepal</a> quake hit: <a href="http://t.co/pb4AqOgfkj">http://t.co/pb4AqOgfkj</a></p>&mdash; Sara Hussein (sarahussein) April 26, 2015
First Everest avalanche victim named as Google executive http://t.co/zkY9ql0VHZpic.twitter.com/5uHW2TMm4u

— The Telegraph (@Telegraph) April 26, 2015
The simple ways you can help victims of the Nepal earthquake http://t.co/sxoB0GGo1spic.twitter.com/fnqGO3dO1h

— The Independent (@Independent) April 26, 2015
News about foreigners in Nepal
The Reuters news agency put together the following list of details released by some foreign governments on citizens who found themselves in Nepal at the time of the quake.
This is a busy time of the year for the tourism-reliant country's trekking and climbing season, with an estimated 300,000 foreign tourists in the country.
- AUSTRALIA: 549 Australians registered as travelling in Nepal, 200 confirmed safe. No reports of Australian deaths.
- AUSTRIA: Around 250 Austrians in Nepal, no reports of any casualties.
- BANGLADESH: No Bangladeshis in Nepal been reported injured or killed. But four people reported killed inside Bangladesh.
- BRITAIN: No details released yet.
- BELGIUM: No reports of any victims.
- CHINA: Xinhua news agency, quoting the Chinese Embassy in Kathmandu, reports four people confirmed dead and 10 seriously injured.
- CROATIA: Four tourists, all accounted for.
- CZECHREPUBLIC: 155 nationals in Nepal, 54 have not yet been contacted.
- FRANCE: Around 500 French nationals located and confirmed safe, no reports of any deaths or injuries.
- GERMANY: No details released yet.
- GREECE: Two Greek nationals safe.
- INDIA: Five Indians killed in Nepal, and another 66 in Indian regions over the border. So far, 1,137 Indians evacuated from Nepal.
- INDONESIA: Thirty-four nationals in Nepal, 18 of them resident. Eighteen have not yet been contacted.
- ISRAEL: About 600 Israelis estimated to be in Nepal. About 400 have been contacted, most of them sheltering at the embassy in Kathmandu. These include 25 couples in Nepal to bring home babies born to surrogate mothers.
- ITALY: More than 300 Italians in Nepal have been traced, others not yet contacted.
- JAPAN: No reports of Japanese killed or injured, though checks are still under way. Some 1,100 Japanese living in Nepal are registered with the embassy, but no information on number of nationals travelling through.
- LATVIA: Local news agencies report around 41 people from Latvia in Nepal at the moment. Four are missing.
- LITHUANIA: 25 Lithuanian nationals registered in Nepal are safe, no news on unregistered travellers.
- MALAYSIA: All Malaysians in Nepal are accounted for and safe, including a team of Malaysian climbers at Everest base camp.
- NORWAY: About 150 nationals in Nepal, no reports of any dead or injured.
- PAKISTAN: No information on exact number of nationals in Nepal, up to 15 have asked to be evacuated.
- PHILIPPINES: Two Filipino climbers are reported safe.
- POLAND: No news on any Poles affected.
- PORTUGAL: All seven Portuguese known to be in Nepal are safe.
- ROMANIA: Nineteen Romanians in Nepal, including mountaineer Alex Gavan and three others, all reported to be safe.
- RUSSIA: Tass news agency, citing Emergencies Ministry, says no casualties among Russians.
- SINGAPORE: No reports of any casualties.
- SOUTHKOREA: Three nationals injured in the earthquake. 650 residents and as many as 1,000 travellers are estimated to have been in Nepal.
- SWEDEN: Around 40 Swedes known to be in Nepal, no reports of casualties.
- UNITEDSTATES: Three Americans killed.