Three inspiring teachers from around the world
Comments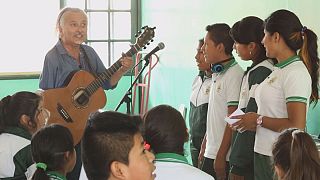 Everyone remembers a favourite or feared teacher. A figure who either ruins your school experience, or inspires you on to greater things. A truly dedicated and motivational teacher can make a world of difference, even more than money or material support. In fact, a great teacher can get results without these resources, and in many parts of the world these things are sorely lacking.
Fortunately in such hardship some hardy plants can grow and make a difference in some of the worst environments for learning that can be imagined. This edition of Learning World looks at three such people who have entered the world of education on a mission: save the children.
Homeless in Gaza
Susan lost everything she had in the 2014 Israeli incursion into Gaza. She found refuge in a school, and now despite opposition from her family and the social problems of being an Arab woman in a position of responsibility, she is running a centre for displaced children.
Boosting results in the Bush
In rural South Africa electricity and water are scarce, let alone a good education where race, class and region can be limiting factors. Now, after years of failure, Mpondombini Secondary School has leadership that has taken the exam success rate from a dismal 23% to 96%.
Overcoming handicap with a musical message
Making music is already hard enough when you are able-bodied, but Chilean guitar player Andrés Godoy, who lost an arm when just 14, has forged an international career, inspiring schoolchildren and developing educational programmes for prisoners from Santiago to Shanghai.
Please do not hesitate to let us know about an inspiring teacher or mentor who has made a difference in your life on Facebook and Twitter