Ukraine crisis has created more than 2 million refugees, UN reports
Comments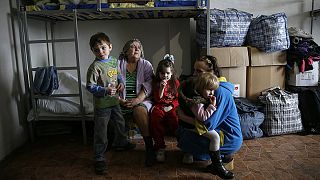 More than 800,000 people have fled Ukraine as the conflict made towns and villages uninhabitable and destroyed vital infrastructure, according to UN statistics.
The total number of refugees created by the crisis is almost certainly over 2 million with the authorities in Kyiv recording 1.2 million residents who have left their homes to stay with friends and relatives or in government facilities in other parts of the country.
Russia has seen 659,143 Ukrainians claiming asylum or another form of permission to stay in the country. This number excludes anyone who has chosen to cross the border without contacting the authorities or those with Russian citizenship who have left eastern Ukraine.
An additional 81,100 Ukrainians have applied to stay in Belarus, with thousands more seeking refuge in other neighbouring countries, the UN refugee agency reports.
Destruction of hospitals and damage to water supplies is contributing to the exodus from areas where Ukrainian soldiers are battling fighters from the self-declared Donetsk People's Republic and Luhansk People's Republic, the UN report said.
Displaced people are at risk from discrimination and children particularly suffer psycological trauma as a result of things they have seen and the conditions they have lived in, the report adds.