Happy Birthday, Hubble: legendary telescope turns 25
Comments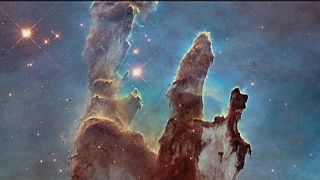 It was launched into space exactly 25 years ago, on 24 April 1990, amid much scepticism.
The Hubble Space Telescope did little to silence its critics when a camera was discovered to be out of focus, and had to be repaired in 1993.
But today its discoveries about the universe are legendary.
"The telescope has exceeded all of our expectations, scientifically, the way it has impacted the culture, the way the people have adopted it as its own telescope. It has been a huge success story, probably NASA's biggest success story over the years, at least outside of the manned space programme," said Dr Kenneth G. Carpenter, project scientist for Hubble Operations.
Above all, the telescope has become renowned for its breathtaking images of the universe.
Mind-boggling images from 25 years of the Hubble Telescope http://t.co/e9zHM0aTUh via mashable</a></p>&mdash; Mike Massimino (Astro_Mike) 22 Avril 2015
One of Hubble's most famous images is the Hubble Deep Field that was made when the telescope focused on a seemingly black and empty sliver of space in the constellation Ursa Major and found it bursting with young galaxies and bright objects. According to NASA, astronomers called it a baby picture of space.
"That has allowed us to really peer back in time to the beginning of the universe about as far out in space as we can imagine within a couple of hundred years of the origin of the universe and see what galaxies were like," Carpenter explains.
The telescope has enabled scientists to learn more about its origin and expansion, being credited with providing evidence for the existence of "dark energy".
It has also led to breakthroughs in everyday technology. It is said that the Hubble's need for tiny electronic components provided the impetus for developments leading to the know-how behind today's selfies and other advances.
Since 1990, Hubble has made more than 1.2 million observations. Its successor, the James Webb Space Telescope, is expected to be launched in 2018. That telescope will peer further into space than any other instrument, building on Hubble's success to unlock the secrets of the universe.
Until then: Happy Birthday, Hubble.