Global protest over TTIP ahead of fresh talks in New York
Comments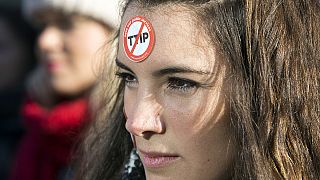 Activists will take to the streets on Saturday (April 18) in what is expected to be one of the biggest protests against the EU-US trade deal.
A huge alliance of groups have come together to organise a global day of action (#A18DoA) against the Transatlantic Trade and Investment Partnership (TTIP).
The European Union and US began official talks nearly two years over creating the world's biggest trade zone.
The ninth round of negotiations are set to get underway in New York on Monday, April 20.
TTIP proponents say it will make both regions richer than ever, because by removing trade barriers and harmonising standards it will be easier to buy and sell goods and services.
Critics highlight a number of areas where they fear the harmonising of trade standards will see US practices imported into Europe, such as food, health and the environment.
A statement on globaltradeday.org, which is co-ordinating promotion of the protests, reads: "​​We, civil society organisations, trade unions, farmers, youth, women, indigenous movements and grassroots activists from across the world, are calling for a Global Day of Action on 18 April 2015 to stop free trade and investment deals and promote an economy that works for people and the planet.
"For the last decades, secret trade and investment agreements have been pushed by corporations and governments, damaging our rights and the environment.
"Together, we can stop the agreements that are being negotiated and reverse the negative impacts of past agreements. We can drive forward our alternatives based on human rights over corporate privileges."