Tsipras meets Putin in bid to strengthen Greek-Russian ties
Comments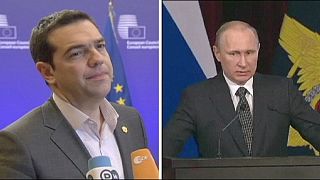 Greek Prime Minister Alexis Tsipras heads to Moscow to meet Russian President Vladimir Putin on Wednesday, amid speculation the meeting could help Greece find cash without having to beg its European neighbors for it.
Russian media have reported that Moscow could at least partly relieve Athens from a ban on EU food products. That would give a welcome boost to the Greek economy, but could also fuel fears in the West that Putin wants to dismember Europe.
[YOU] Do you think it would be in Greece's best interests to receive financial aid from Russia?❏ Yes❏ No❏ I don't know

Posted by euronews on Tuesday, 7 April 2015
"Greece does not seek to provoke the European Union, but it might like to put pressure on the European Union by showing that it has theoretical alternatives, in order to guarantee the financing of the national economy," said George Tzogopoulos, political analyst for the Hellenic Foundation for European and Foreign Policy.
For years the country has been struggling with a huge debt, a depressed economy and EU partners impatient for economic reforms. So today, some Greeks say Tsipras and his leftist government are right to look for solutions beyond Europe.
"He needs to reach out, across the Atlantic, and to China, and to Russia, and the rest," said Kostas, a transport worker living in Athens. "When Ms. Merkel does it or other prime ministers do it, we don't comment about it. That is what you do, multi-sided politics."
Greece and Russia are both Orthodox Christian countries and have traditionally had good relations. Athens has never strongly supported Western sanctions against Russia over the conflict in Ukraine.
According to government spokespeople, Tsipras and Putin plan to discuss economic ties and the EU's sanctions against Moscow.
The Greek government has stressed it is not seeking funding from the Kremlin. But it has failed so far to reach a deal with its EU and IMF creditors to unlock fresh funds needed to keep the country afloat, after the two sides disagreed over the next set of economic reforms Athens should implement.