EU warned Germany over safety control 'before Germanwings crash'
Comments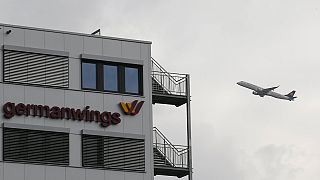 It has been revealed that a European regulator found "issues" with Germany's aviation authority over safety enforcement – reportedly before the Germanwings crash in the Alps.
A report in the Wall Street Journal said EU officials told Berlin last November to sort out long-standing staff shortages at the aviation authority, the Luftfahrtbundesamt (LBA), that could affect checks on planes and crew, including medical checks.
Investigators continue to probe the background of the co-pilot Andreas Lubitz who is believed to have deliberately crashed the plane, and questions have been asked as to whether examinations of his suitability to fly were rigorous enough.
Acknowledging that "issues" had been found, the European Commission
said in an emailed statement: "On the basis of EASA (European Aviation Safety Agency) recommendations, the Commission has addressed the issues to Germany to require compliance. Germany's replies are currently being assessed.
"All EU member states have findings and this is a normal and regular occurrence. It is part of a continuous system of oversight: findings are followed by corrective action, similar to an audit process," the Commission spokesman said, without specifying EASA's findings in Germany.
A spokeswoman for the LBA said EASA's audits of national aviation authorities such as the LBA took place several times a year. She said the LBA had answered a single-figure number of criticisms levelled at it during the audits and those responses were now being assessed by EASA.
The German transport ministry has reportedly said that the concerns have no connection to the Germanwings crash.
Police in France say recovery efforts from the crash site of the Germanwings plane in the Alps have been suspended – at least for the weekend – as the authorities already have most of what they need.
A private firm has been hired to remove parts of the plane on site and are expected to begin their work late next week.
Last week the authorities said they had recovered the second black box recorder, and enough human remains to do DNA analysis.
At the foot of the mountain, police vans shielded a memorial to the victims from view on Saturday, to protect the privacy of the families and friends who are expected to visit and grieve over Easter weekend.