Jewish leaders urge Washington to lead global fight against anti-semitism
Comments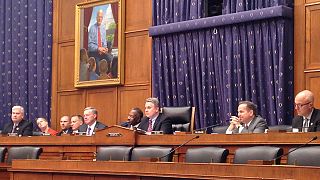 Jewish organizations from the United States and Europe have called upon the United States to urgently step up the fight against anti-semitism around the world.
In the light of recent anti-Jewish attacks in Paris and Copenhagen and the spread of radical Islamic hatred of Jews, America must take the lead in condemning such actions, said Ronald Lauder, the president of the World Jewish Congress in Washington on Tuesday.
Speaking at a Congressional hearing, Lauder deplored that there was no US representative in the front row of the million-man march in Paris following the Charlie Hebdo assassinations.
"I believe that sent a very negative message around the world", he said.
"My fear is that muted condemnations or, worse, silence, could lead to what we saw in Europe 70 years ago", Lauder said, referring to the Holocaust and World War II.
The Foreign Affairs Subcomittee on Global Human Rights of the US House of Representatives also heard testimony from two leading Jewish representatives from Europe, Roger Cukierman, the president of the Representative Council of Jewish Institutions of France and Dan Rosenberg Asmussen, the president of the Danish Jewish Community.
Cukierman warned against radicalized Muslims, many of which come from Muslim communities in France and other European countries. "Jews are seen by these Jihadists as a privileged target", Cukierman said.
"This is a war against western modern civilization", Cukierman said. "The first victims are the moderate Muslims."
Asmussen said the recent anti-Jewish terror attack in Copenhagen did not occur in a vacuum. "It was the culmination of years of growing anti-Semitism. It happened in a country where it has become widely acceptable to criticize and question both Israel and Jews with a carelessness that we did not expect or imagine just a few years ago."
Just hours before the hearing, eight members of Congress launched a bipartisan task force aimed to minimize the proliferation of anti-Semitic acts across the globe.
"Around the world, we are witnessing an alarming rise of anti-Semitism that is dangerous and complex. Over the past few years, Jewish schools, synagogues, and even homes and property have been targets of anti-Semitic violence. Jewish populations are facing increased levels of hatred, frequently under the guise of political differences or other alibis, but in reality it is solely because of their faith," the members said in a statement.
The committee, coined "The Bipartisan Taskforce for Combating anti-Semitism," will work to educate members of Congress on this particular form of prejudice and will seek to share solutions with the Executive Branch of the government, foreign leaders and civil society organizations.
US Vice President Joe Biden met with Lauder and other members of the World Jewish Congress leadership at a reception Monday night, where he thanked them for speaking out against anti-Semitism and their "constant, unrelenting oversight."
"I spent a lot of time in Austria, Munich, and France talking about anti-Semitism in Europe and other places around the world and let me tell you that your work really matters. If you don't constantly speak out every time it raises its ugly head — if you let it sit for a minute — it's like a boil that festers," Biden said.