Austerity and reparations: Merkel and Tsipras agree to disagree
Comments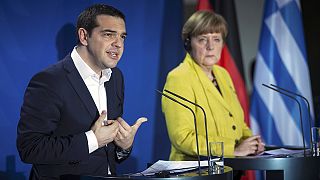 Tensions between Athens and Berlin may be high, but Greek Prime Minister Alexis Tsipras and German Chancellor Angela Merkel put on a united front following talks on Monday (March 23).
Both leaders agreed on the need to fight the widespread corruption and tax-evasion in Greece and spoke of plans to tackle youth unemployment.
Big structural reforms are needed in Greece, they announced. Such change, combined with a solid Greek budget, would provide the foundations for a return to growth and a rise in employment, they added.
Bailout plan
The Greek bailout plan was on the minds of more than just the politicians – Tsipras entered talks in the German capital amid anti-austerity protests.
The chancellor has consistently taken a hardline stance on Greece's debt crisis, pushing for the terms of the EU/IMF bailout plan to remain unchanged.
However, it was unclear whether the leaders had reconciled differences on Greece's planned economic reforms.
"Germany is not responsible for making a decision on the bailout programme and reform plans," said Merkel. "The starting point for further work is the statement made on February 20 by the Eurogroup. So, we can discuss that issue today and share points of view. But I cannot promise anything, least of all liquidity."
The Syriza government's proposed reforms will have to be agreed upon by Greece's creditors. Cash-strapped Athens must then implement the reforms to be in with a chance of being given more, urgently-needed funding.
Reparations
Greece's claim for reparations from Germany, dating back to World War II was also on the agenda. Following the talks, Tsipras placed emphasis on the moral factor, despite Merkel's insistence that the topic is politically and legally closed.
"For the Greeks, the issue of the forced occupation loan and German reparations is not a material issue, but rather a moral one," said Tsipras. "And I believe both countries have to work together to solve this moral issue, which concerns both the Greek and German people."
What next for Greece?
Our correspondent in Berlin outlined the next steps for Greece:
"Now it's the turn of the European Commission, the European Central Bank and the International Monetary Fund to evaluate Greece's list of reforms. And it's down to the Eurogroup to decide whether it will grant an early payment to Greece of part of the remaining 7.2 billion euros, which could give the Greek economy some breathing space."
Economists say it is clear cash-strapped Greece is coming dangerously close to bankruptcy. Some reports suggest the country will run out of money by as early as April 8, 2015.
There are also reports that Greece's coalition government, dominated by Tsipras' leftist Syriza party, may have to take money from insurance funds to pay pensions and public salaries at the end of March.