Spain: Podemos faces first big political test as Andalusia goes to the polls
Comments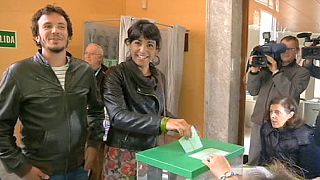 Political newcomer Podemos is facing its first big test as Spain's Andalusia region goes to the polls.
Teresa Rodriguez
Represented by Teresa Rodriguez, the leftist movement and the Ciudadanos party are both new parties competing against established political groups in the election.
Susana Diaz
Socialist candidate and current President of Andalusia Susana Diaz is hoping to retain her post, although polls indicate there will be no clear majority.
Juan Manuel Moreno
Seeming to fear the growth in support for the new parties, both the Socialists and the conservative People's Party – represented by Juan Manuel Moreno – have warned voters against trusting the promises of newly-formed politicians.
Political change ahead?
But economic recovery in Spain is gathering momentum and the outcome of Sunday's vote is likely to provide the first real indication of political change.
Podemos party leader Pablo Iglesias is polling well. He has challenged Spain's conservative Prime Minister Mariano Rajoy over current austerity measures and high unemployment, leading some to compare his movement to Greece's newly-elected Syriza party.
Some 6.5 million Andalusians are eligible to vote, representing around one fifth of the national electorate. Unemployment in the region currently stands at over one in three – above the national average of one in four.