Deadly museum siege ends in Tunisia with heavy death toll of foreign tourists
Comments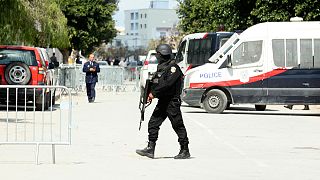 Anxiety and grief in Tunisia as a deadly standoff has come to and end two hours after it began.
At least 19 tourists were killed, and 22 wounded during the attack at the Bardo Museum in Tunis. Seventeen of those killed were foreign nationals. Polish, Spanish, German and Italian citizens were among the victims.
More than 100 people were freed during the counter-terror operation.
Two gunmen and one policeman were killed during the raid on the museum, though it's believed three other attackers could still be at large.
An assault on such a high-profile tourist target is a blow for the country which relies heavily on European tourism.
Prime Minister Habib Essid said the attack targeted the economy and called on "all political parties and civil society to unite with them in the fight against terrorism which targets the stability of the country," He added, "In government it is our responsibility, and we are prepared, to defend our country."
MPs in the neighbouring parliament had been debating an anti-terrorism bill when gunfire erupted at midday. Lawmakers sang the national anthem as they waited in safety.
The gunmen reportedly shot at tourists getting off buses outside the national museum.
The identity of the attackers is yet to be established. Concerns about security have been on the rise over the threat posed by Islamist extremists from ISIL and the instability in neighbouring Libya.
As the operation ended, the mood was buoyant and Tunisians gathered to cheer on the swat team. Once the cheers died down the government must now reflect on how to re-establish confidence in the country hit by its worst attack on foreigners since 2002.
Demonstration against terrorism on steps of municipal theatre downtown Tunis #Tunisia#BardoAttackpic.twitter.com/mNHvhELF2O

— Eric Reidy (@Eric_Reidy) March 18, 2015