Americans get more bang for their buck in Europe as euro slides
Comments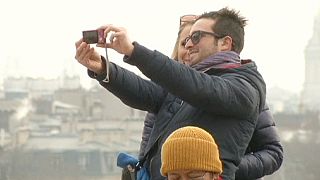 Americans travelling to Europe are getting more bang for their buck, as the euro slides towards parity with the dollar.
The increased purchasing power for US travellers means they're willing to spend more in eurozone countries, providing a spring time boost to the tourist industry.
Americans hit the jackpot when the euro fell to a 12-year low on Sunday night.
"Yes when I planned the trip six months ago it was going to cost me I think $1.34 to get a dollar in a euro," explained Susie Flynn from Florida. "Now it was $1.03 so it was awesome. And I exchanged a bunch of my money in the States when I came over. So yeah, it's made a big impact."
"We're here on vacation in Paris visiting with my daughter who's in school in London. And it definitely was a lot easier coming here because the euro was definitely got more bang for the buck. I stayed in a nicer hotel, we've been able to do a little bit more visiting. The British pound is really difficult as far as money is concerned," said Jane Silverman visiting from Massachusetts.
Brits are also cashing in on the currency crash. With a strong pound exchanging 500 pounds will leave UK tourists 52 pounds better off.
A euro in freefall is good news for EU businesses who are raking in the tourist dollars, but it's bad news for Europeans heading Stateside, who will be short changed if they venture across the pond.