Saudi Arabia recalls ambassador from Sweden amid diplomatic row
Comments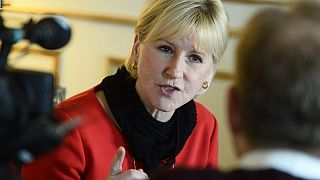 Saudi Arabia has recalled its ambassador from Stockholm after Sweden ended a decade old arms deal with Riyadh.
It is the latest escalation of tensions between the two countries after the Saudis blocked the Swedish Foreign Minister's speech to the Arab League earlier this week.
Last month Wallstrom referred to the Gulf state as a 'dictatorship', and criticised the flogging of blogger Raif Badawi, remarks which Riyadh considered interference in internal affairs.
On Twitter, the minister was unapologetic about her outspoken criticisms.
Stå upp f mänskl rättigh kan medföra kritik-liksom att gå före. Reg står f rak dialog OCH engagemang. Arabförb bjöd in men hamnade i knipa.

— Margot Wallström (@margotwallstrom) March 10, 2015
The Prime Minister was quick to defend his minister, but also sought to smooth over the damage.
"We will stand up for human rights, we have done so and we will do so in the future," said Prime Minister Stefan Löfven. "But we would like to emphasise that we would like to have a good relationship with Saudi Arabia and see other possibilities to develop this relationship. We have examined various alternatives, we have come to a decision, it's the right one and we will go from here," he added.
The weapons deal was worth millions in Swedish exports and was due to expire in May. The decision prompted businessmen to write an open letter asking the government to reconsider.