Jailing sex offenders is not sufficient, says Turkish law professor
Comments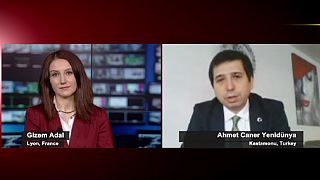 As campaigners mark International Women's Day, euronews has been discussing violence against women and punishments for perpetrators with Ahmet Caner Yenidünya, a Criminal Law Professor in Turkey.
The attempted rape and killing of 20-year-old student Özgecan Aslan in Mersin, southern Turkey, in February has prompted debate over whether the death penalty should be brought back and castration introduced in the country.
Gizem Adal, euronews: "Across the whole world, including Turkey, violence against women, the murder of women and sexual violence are being debated more often. Do you think violence against women has increased or has become more visible?
Ahmet Caner Yenidünya, Professor of Criminal Law: "In fact we have to mention that both of these have happened. Actually on one hand we can talk about violence against women, especially sexual violence, sexual mobbing. It has increased together with the complexity of societies. However, on the other hand while the media has more facilities (technology and reaching audiences) nowadays, it has become visible. Especially we need to express that while women are becoming more conscious, the number of these kind of cases which have been transferred to courts increased as well."
Gizem Adal, euronews: "After the murder of Özgecan Aslan the reintroduction of the death penalty and castration has been debated. Do you think that these are appropriate criminal policies which can prevent sexual violence and murder of women?"
Ahmet Caner Yenidünya, Professor of Criminal Law: "First of all castration can be done in two different ways. First one is the chemical castration and the second one is the surgical castration. For sure as a type of sanction, the surgical castration affects a person's physical body but in criminal law we can not accept it in terms of "humanism principle."
"However if the perpetrators have hormonal disorders or if there is a need to have hormonal treatment with the existing psychological disorders, in these cases, this kind of chemical castration methods can be used as supportive measures towards the perpetrators."
Gizem Adal, euronews: "What are your suggestions in terms of punishments for those committing sexual crimes?"
Ahmet Caner Yenidünya, Professor of Criminal Law: "It is not enough to implement punishments just against people's freedom (putting in jail). As I have mentioned before, also the appropriate treatments for the perpetrators must be implemented.
"However for sure if we approach this issue with the aspect of the death penalty, I don't think this punishment is appropriate. Because the death penalty is not a humanistic act. I think that we have to stay away from these kind of punishments."