Iraqi forces make gains against ISIL
Comments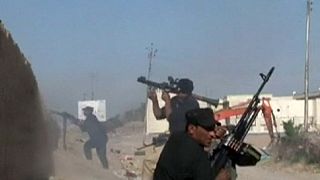 Iraqi forces and Iranian-backed Shia militia say they have achieved "rapid success" in their biggest offensive yet against ISIL militants.
Five days into the battle to retake Saddam Hussein's home city of Tikrit in Salahaddin province, anti-ISIL forces have liberated the town of al-Dour on its outskirts.
Interior Minister Mohammed al-Ghabban explained the strategic importance of the offensive.
"This area is the most important one in the sector. It starts from Udhaim Dam to Hamrin mountain and through Hamrin mountain and oil well to Baiji. It is the biggest and most strategic sector because it will help cut reinforcements to the enemy. We have achieved rapid success in this sector right from the start of the operation."
The international coalition, which has been launching airstrikes against ISIL in Iraq and Syria, has not been involved in the Tikrit campaign, while Iranian-backed Shia militia, known as the Popular Mobilization Units, have taken a leading role. Qassem Soleimani, commander of Iran's Revolutionary Guards' elite Quds force, was reportedly spotted on the battlefield earlier this week helping to supervise the offensive.
Despite longstanding sectarian tensions between Iraq's Sunni and Shia communities, tribal Sunni Arabs reportedly fought alongside the Shia units in this latest effort to push Islamic State militants out of the area.
In nearby Anbar province, Iraqi security forces assisted by Sunni tribal fighters from the area cleared Islamic State fighters from the town of al-Baghdadi, close to the key air force base of Ain-al-Asad, where US troops are training Iraqi troops. The operation was supported by US-led airstrikes.