Ann Sophie for Germany as Eurovision winner Andreas Kümmert quits
Comments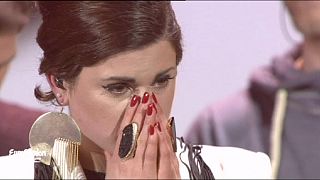 Dramatic Eurovision scenes have been witnessed in Germany, more than two months before the song contest takes place.
I'm not really in the right shape to accept this
At the national finals in Hanover, Andreas Kümmert had just beaten off seven rivals to top the public's poll to represent the country in May.
But on live TV, no sooner had he won than the bearded 28-year-old told a stunned runner-up that he was pulling out: she could go to Vienna instead.
"I'm not really in the right shape to accept this," he said to presenter Barbara Schoneberger. "I give my title to Ann Sophie."
There were boos from the audience, but despite pleas from the host for him to reconsider, Kümmert would not back down.
With a blend of rock, soul and blues, Kümmert came to prominence by winning the "Voice of Germany" casting show in 2013.
His shock decision however means that his song "Heart of Stone" is condemned to Euro-oblivion.
The stage is now set for 24-year-old Ann-Sophie, a late wildcard entry after winning a club concert for unknown artists in February, to steal the limelight.
"Do you even want this?", she asked the Hanover audience as they reacted badly to Kümmert's withdrawal.
But after the presenters reminded people that they liked her song too, Ann Sophie performed "Black Smoke" for a second time.
On May 23 the young newcomer will get to perform before an estimated 180 million people worldwide as Eurovision stages its 60th competition.
Germany has twice won Eurovision: in 1982 Nicole sung "Ein bisschen Frieden" (A Little Peace), with Lena Meyer-Landrut coming out top with "Satellite" in 2010.